Your Pretty Face is Going Straight To Hell #17
Created in 24 hours for 24 Hour Zine Thing, issue #17 of Tukru's feminist perzine feels even more personal and quirky than others. Tukru's writing is often very stream-of-consciousness, breezing from one topic to another, and in this issue particularly so. It feels like a peek into Tukru's diary, complete with scribbled-out words, glued-in pictures, and drawings. We read about the process of creating the 24-hour zine – trying to plan what she was going to write about, her plans in between zine-making, being stuck on what to write to fill spare pages, and procrastination. There's also a long piece on being a writer, her half-finished novel, and recent writing projects. She closes the zine with a very short piece of fiction. Another awesome issue of Your Pretty Face…, highly recommended for perzine lovers and/or anyone thinking of writing their own 24-hour zine!
Shape and Situate #4: Posters of Inspirational European Women
Edited by Melanie Maddison, Leeds – http://remember-who-u-are.blogspot.com
As I've mentioned before, Shape and Situate is one of my favourite UK publications, and I'm always excited when a new issue is released. Each issue profiles a number of female European artists, activists, thinkers and political figures; #4 features, among many others, political activists Pussy Riot, athlete Kathleen Thomas (the first person to swim across the Bristol channel), painter Sadie Lee, and writer/historical figure Anne Frank. With a striking cover and filled with handmade artwork, it's a visual treat. Shape and Situate is exactly the kind of zine I wish was for sale on shelves in newsagents, instead of the vacuous glossies on offer!
Tragic Boffin #4 and #5
Donna, Edinburgh – tragicboffin @ gmail.com
A consistently engaging perzine, Tragic Boffin remains one of my favourite regular British perzines! #4 is a 24-hour zine, and apart from the odd scribbled-out word you'd never tell it was written and assembled in only 24 hours, as the content is just as thoughtful and well-assembled as in previous issues. The zine opens with a piece about Donna's changing relationship with make-up, and its relation to her mental health and feminist politics, ultimately coming to the conclusion that no one needs make up, but should be free to choose it. We also read a number of 1-2 page articles on various topics including working to deadlines, OCD, avoiding creative burn-out, and fear of flying. #5 is much more dense than #4, with longer articles interspersed with single pages of artwork. Inside, we read about Donna's least-favourite past jobs, feeling like she's getting old, the joy of finding lost treasures in car boot sales, the pros and cons of using a Kindle, and thoughts about dieting. Cute, neat layouts with lots of kawaii throughout, Donna's zines are such lovely things to read.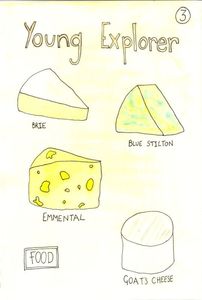 Young Explorer #3
Edited by Liz and Steve, England - www.youngexplorerzine.blogspot.co.uk
Young Explorer is a compzine with an overarching theme for each issue. #3 is themed 'food', and features an awesome colour cover with different types of cheeses illustrated! Om. Some of the articles that made the (pork) chop include a piece on regional foods, complete with an annotated food map of Britain, ultimate ice-creams, and a comic about using oranges for self-defence. Quite a short read, but varied, interesting, and witty. I found myself reaching the end of the zine and longing for more!
Mythologising Me #3
Ingrid, Newcastle-Upon-Tyne - mythologisingme @ gmail.com
This is one of my favourite issues of Mythologising Me, especially in terms of the visuals – with a beautiful teal front cover and messy typewritten/cut and paste layouts, I love the way this zine looks! This issue explores Ingrid's feelings of disconnectedness and insecurities - longer pieces exploring her future and her identity are interspersed with short handwritten sentences including "when am I going to do that magnificent thing I always planned I would achieve (whatever it was going to be)?". Arguably one of Ingrid's most personal zines, I found a lot to relate to in here.