Ellipsis #2
Sarah-Beth, Coventry – kittenesqueATgmailDOTcom
This is such a beautiful little zine! Sarah-Beth's second perzine explores topics including feeling overwhelmed by all the things she's yet to learn (like how mortgages work) and feeling unsure as to whether she can discuss something if she doesn't know much about it, a scathing review of the 50 Shades trilogy that clearly highlights the problematic nature of the story, lists of what she's been up to recently and what she's enjoyed recently, thoughts on fitness and body image, her feelings about Gala Darling, and girl-hate. The layouts are gorgeous and carefully thought-out, with printed text (in a nice arial narrow font), stamped headings and the odd handwritten line here and there. The cover sheet is very clever too – purple paper printed with purple ink. 'Ellipsis' is one of my favourite UK perzine series – highly recommended!
And All The Rest Is Talk #1: Lungs And Lips Locked
Lindsey, UK - thesmingitAThotmail.com
In this 14-page half-sized perzine, Lindsey writes about how everyone is a little bit creative, her thoughts on war ("war means someone has to die"), her experiences of her own femininity and cross-dressing, and her new-found love for zines. We also read a review of female-fronted punk band Drag, and a nice piece of prose titled 'To See the World in a Grain of Toast'. Mostly handwritten, with some magazine clippings and hand drawings alongside the text. Feels very personal and hand-made, like the pages have been taken out of someone's journal.
Mythologising Me #5
Ingrid, Oxford – mythologisingmeATgmailDOTcom
Ingrid describes the fifth issue of her perzine as being more honest than previous issues, exploring her feelings on some difficult and personal topics. The longest written piece focuses on her career plans, frustrations at not being able to afford postgraduate study, and thoughts about why one's job seems so integral to one's identity (why do so many people ask "so what is it that you DO?", as if your job is all you 'do'?). There are also lots of shorter pieces throughout, on topics including diary-writing, feeling nervous about standing up for what she believes in when others disagree with her, the internet and how everything has become intangible (ebooks, blogs, etc), feeling down and starting CBT, and making a bigger effort to stick to her vegan diet. There's a theme of self-improvement and looking forward that comes out in her writing, and Although Ingrid writes inside that she thinks this issue isn't as cheery as previous issues, I think I would disagree. Mostly written on her typewriters (I love the cursive typewriter font!), the layouts are among her best yet, with some hand-drawings and nice cut-and-paste artwork.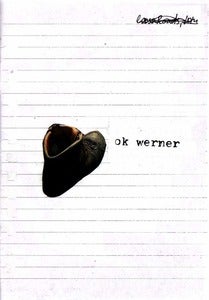 Ok Werner
A fanzine made by brother and sister Jean and Brian about their favourite filmmaker, Werner Herzog, this zine was put together on a self-appointed week-long "Herzog Holiday" at Jean's house. Inside we read reasons why they love Herzog's work, common themes in his work, lists of their favourite films, their favourite quotes of his, and more. I love it when people write enthusiastically about the things they love in zines, and 'OK Werner' is a lovely example of that. I hadn't heard of Werner Herzog until reading this zine, but I'm definitely going to check out some of his stuff when I get the chance. Thanks Jean and Brian!