*trigger warning re: sexual assault and violence against women*
Brash #2
Alana, London - http://alanasartwork.blogspot.com
Brash reminds me exactly of what zines are all about – a messy cut-and-paste zine all about Alana's passion for skateboarding and art. Inside, we read about Alana getting involved in a skating competition and meeting other awesome female skateboarders, and reviews of CDs and books she enjoys. She interviews female skater Georgie Winter, one of the first lady skaters Alana ever met, and illustrator
Bunny Bissoux
(the lady behind this year's BZF design). The zine closes with a list of things Alana recommends to the reader, including
Horse Zine
and
Rogue
, the UK's first girls only skate team. Throughout there are lots of amazing drawings and skater photo collages by Alana which are probably the highlight of the zine. While there's not as much personal text as I'd usually like to read in a zine (e.g. some more writing about Alana's experiences of being a female skater), it's still a lovely read, with some quirky layouts. I love the messy charm of Brash!
Rape Escape: Handy Pointers for Heavy Situations
No contact information
I picked up this zine from
Princesa Pirata Distro
at one of the summer's zinefests. It's a fairly short half-sized zine detailing a few self-defence tips for women who find themselves in situations that may result in sexual assault. Advice includes what to say when confronted with verbal sexual harassment, how to fight if someone grabs you, which parts of the body to protect in an attack (always the jaw), and how to be assertive when creeps invade your personal space. The general tone of the zine is very much one of self-preservation and looking out for other women, and there are lots of genuinely useful tips, for example, "keep a [physical] barrier between you and the attacker" and "do not smile and try to act friendly when saying no". I found the section on the "warning signs" of a person who might be a rapist or abuser particularly interesting. Some tips, however, hover a little too closely to victim-blaming attitudes so often found in "rape prevention" guides, e.g. the oft-repeated "never leave your drink unattended". There's no acknowledgement that some tips just may not work, e.g. "communicate your wants and refusals clearly" - sometimes you just can't "deter sexual assault", no matter how well you handle the situation. I think some sort of disclaimer should've been included in this zine, explaining that it's easy to forget what you're 'supposed' to do when you're frightened for your life (e.g. if someone threatens you with a weapon), and that it's never the victim's fault for doing the wrong thing – the attacker is the only one responsible for the attack. I'm sure that the writer(s) of this zine agree, but it's important to reiterate nonetheless. Recommended with caution.
Girls Who Fight
Various - magazineATtheydid.org.uk
A quarter-sized feminist compzine, Girls Who Fight is quite a mixed bag – we read light-hearted stories, drawings, reviews, and cartoons, all focusing on strong, inspiring women, but in other places the zine reminds me of a teen magazine, with its focus on fashion, advice, and whimsy – though the content is of course far more DIY and female-friendly. There's a cool 5-page spread filled with lots of sweet questions and answers, including "What did your mother always tell you?" ("to never walk barefoot on a kitchen floor") and "What is your most embarrassing moment?" ("being caught stealing from a library"). The "Rad or Bad" feature is another little gem, where the writers list their likes and dislikes; also included is a fashion page of the writers modelling "clothes we didn't pay for". In true zine style, there are some tasty recipes at the back. It's a bit mish-mash – not quite a fashion/pop magazine, and not quite a DIY feminist zine. But for 50p, it's definitely worth checking out.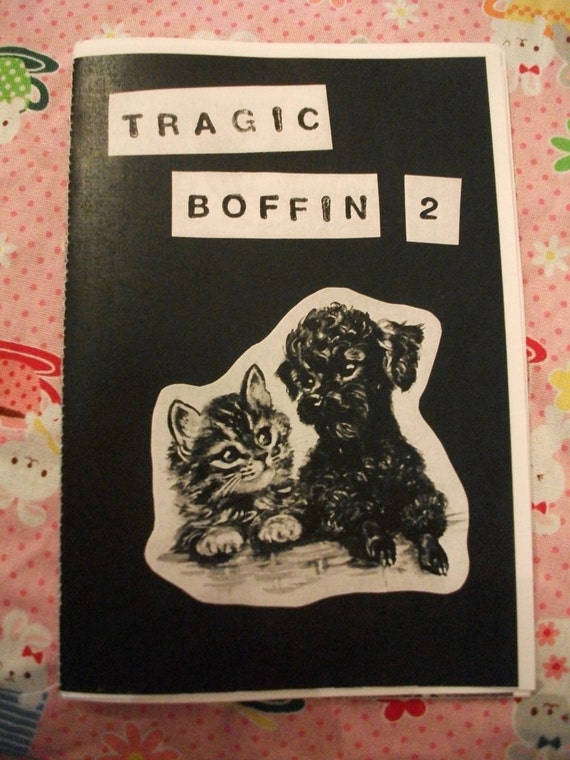 Tragic Boffin #2
Donna, Edinburgh – tragicboffinATgmail.com
Another lovely little zine by Donna. This issue of Tragic Boffin is very similar to the first in terms of themes and visuals (read my review of the first issue here). We read about what Donna has been up to since the last zine, how she manages her depression with good food and plenty of sleep, and riding her bike Polly. She also discusses the world overpopulation argument against human reproduction in a lengthy piece, considering how people tend to rush into having children without thinking about the responsibilities involved (something I completely agree with – I'm one of the few women from my class in school who hasn't had a baby!). There are also little random thoughts dotted between each longer piece, such as Donna's wish to be able to talk to animals, or the lack of positive role models for girls. A thoughtful, whimsical zine, but a little too short!
Moments of Struggle: An Illustrated Introduction to some Anarchist History
This is a short quarter-sized zine written by Isy (of Morgenmuffel zine), all about anarchism through the ages. She takes us through a number of key moments in history, including the anarchist-esque human origins, the heretics of the Middle Age church, the French Revolution, 17th century Piracy, and the Russian Revolution. At the back, Isy includes some further reading. The zine is presented as a comic strip, all drawn in Isy's signature style, with a little humour thrown in. Very well-designed and informative, you can tell that Isy has done some good research on this. And it's only 50p! Brilliant!