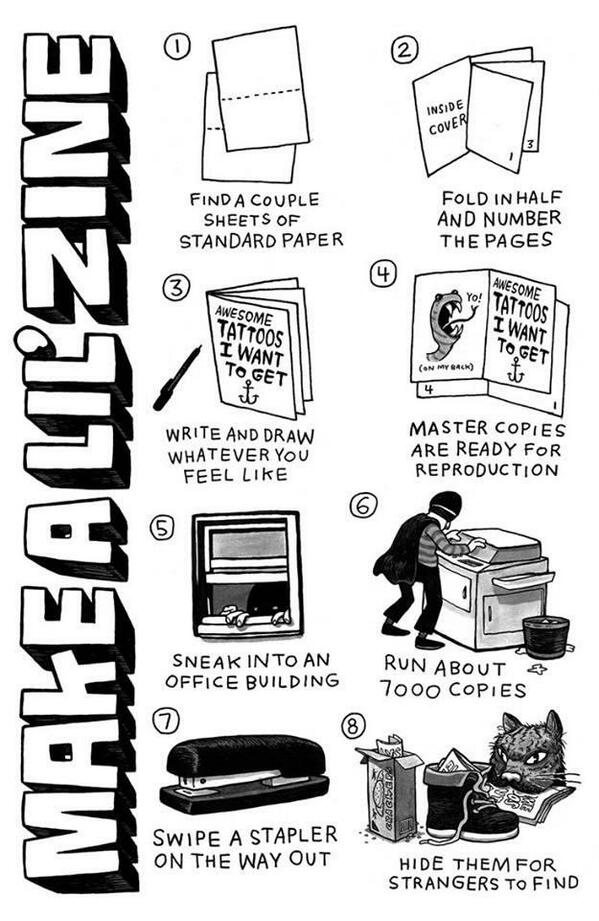 via @fanzines
---
1.New Releases
Long-running review blog 'The Girls Are' published its first paper issue in December! It's dedicated to women in music, and features articles, reviews, artwork and more. Buy a copy at their store: http://www.thegirlsare.com/store/
Litzine 'Handjob' has published its second issue this winter – to buy copies, visit handjobzine.bigcartel.com
Issue #2 of feminist perzine 'Sympathy for the Strawberry' is available to buy or trade now – to get your hands on a copy, get in touch with the author

Caitlin

.
Split perzine 'Hedgehog in the Fog #6 / Not Lonely #7' was published last week. Get in touch with the authors

Emma

or

Hannah

for your copy!
'Adventures in Menstruating Comic/Poetry Special #1' was published in time for last month's Queer Zine Fest London, and can be purchased at

Marching Stars distro

.
2.Upcoming Events
3.Submission Calls
Poor Lass, a zine about working-class women, is looking for submissions for its 4th issue! The theme is 'relationships'. Details here: https://www.facebook.com/PoorLassZine
'Stories from Space Camp' is looking for submissions for their second issue, on the theme of "bodies". Submissions from people who feel alienated from mainstream sci fi & fantasy media are particularly welcome. Check out the Facebook page for more info:

https://www.facebook.com/StoriesFromSpaceCamp

.
'Sonorus: Feminist Perspectives on Harry Potter' is looking for submissions for its second issue! Lots of details on the website: http://sonoruszine.wordpress.com
Litzine 'Hand Job' is looking for written work to publish in its third issue. For more details, or to get hold of issues 1 and 2, email handjobzine @ gmail.com.
4.A.O.B.
Did we miss anything? Let us know – spillthezinesuk @ gmail.com .