Split Peaches #1: The Zine
Split Peaches (feminist collective) – lola-roseATriseup.net
Split Peaches is a "women's and trans people health collective" based in Leeds, and their first zine features writings that represent what the collective is all about. The zine opens with a description of what Split Peaches is, and why they chose to only remain open to women and trans people. The rest of the zine focuses mostly on health, with articles on self-examination, eating disorders, "chub rub", the mental health benefits of being child-free, how to get pregnant, effective methods of contraception, and a map of the cervix. There are also some feministy articles that avoid the subject of health, including a discussion of the relationship between women and bicycles, a passionate rant against the gender binary, and growing old disgracefully. Each article is detailed and lucid, and the layouts vary from plain and functional, to messy cut-and-paste, to pretty and dainty. This zine reminded me a little of
Reassess Your Weapons
(the zine created by feminist group Manifesta), as it looks and feels very similar. A very good read!
This zine, as explained on the cover, was created at Bradford Zine Fayre 2010 and the Brighton Zine Festival 2011, following workshops on experiences of sexual harassment. I found this zine funny and entertaining, handling the difficult subject matter with humour and sharp mockery of the curb crawlers and their enablers. The zine is almost entirely hand-drawn and hand-written, with each contributor focusing on a different aspect of street harassment. We read definitions of curb crawling, personal stories of harassment, critiques of victim-blaming adverts that tell women how to avoid harassment, examples of the obscene language curb crawlers use, and some ideas they have heard on how to avoid getting hassled by someone (including picking your nose)! Read it for free
here
.
Black Ski Mask #1

Max Mallender, Yorkshire - blackskimaskATliveDOTcom
Described as "the visual ramblings of a university drop-out", Black Ski Mask consists of full-colour photographs, some of which are captioned, of the author's life. Such things photographed include picking locks, smoking weed, climbing trees, partying, exploring, and vandalising; combined, they tell an interesting story about the author's life. There's also a nice poem inside. As someone who enjoys something to
read
in a zine, I have to be honest and admit that I didn't get much from Black Ski Mask. However, I will say that it's among the better photo zines I've read, mostly due to the high quality and interesting subject matter of the photographs. Some of them are very good indeed, both in terms of quality and concept. A very well-designed zine, if you're a fan of photography and art.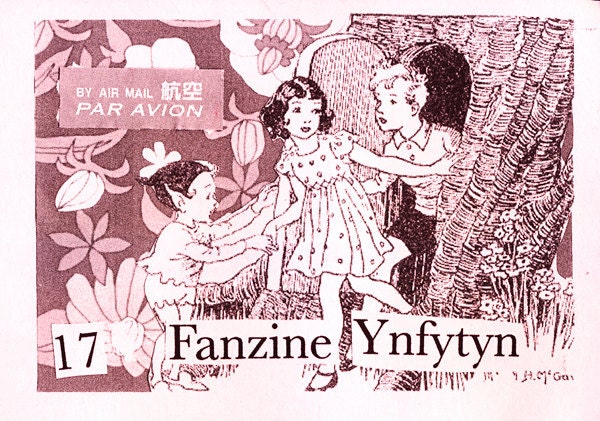 Fanzine Ynfytyn #17
Fanzine Ynfytyn is a short and sweet perzine filled with lists, pretty backgrounds, and heart-warming stories. In the 17th issue, we read about Emma's mother's cats, and Emma's quest to get hold of a working Mr. Frosty. This issue is packed FULL of lists – these include things Emma is bad at, things that annoy her, and small pleasures. At 22 pages, it's a quick, cheerful read.
Inc. magazine #4

Edited by Will Coldwell and Anya Pearson –
www.inc-zine.blogspot.com
This isn't the kind of zine I usually go for, but I was tempted by the awesome cover and the concept. The zine features two chains, each one alternating between poets and illustrators, "charting an unpredictable journey as ideas get reused, recycled, and downright corrupted". I would have to say that this is one of only three poetry zines I've ever enjoyed – usually zine poetry is poorly-written (from an outsider's perspective, at least), but the poetry in Inc was great. The illustrations were excellent too. It has quite a personal touch, for a comp-zine – each copy is hand-numbered, stamped, and sealed. I would recommend this zine to those of you who enjoy poetry, illustrations, and conceptual art.
Financially Hard Times #8: December '11
A short, monthly zine which takes a scathing look at pop culture. Filled with Tom's awesome illustrations, this issue features Greg Wallace from Masterchef, Clegg & Cameron, David Miliband, and an imagining of the House of Commons Christmas party. A quick read, FHT is irreverent and funny – I only wish it was longer and wordier! Subcribe for a discounted rate
here
.
(Next Sunday is International Internet Free Day, so Spill the Zines will be posting its fortnightly news round-up a day early, on Saturday 28th!)